Fitbit, Google Cloud, and nine hours Launch PoC to Realize Health Promotion Service Using Sleep Analysis Sensors
Background
In recent years, there has been lots of discussion on shorter sleep hours, with more people chronically lacking sleep. Japanese people's sleep times are particularly short compared to the rest of the world, and according to a 2021 survey by the Organisation for Economic Co-operation and Development (OECD), the average sleep time of Japanese people is the lowest among the 30 OECD member states*3. Sleep plays an important role in sustaining human life and is closely connected not only to sleep apnea but also to various other diseases, including lifestyle diseases like hypertension, diabetes, and arteriosclerosis*4. On the other hand, sleep duration and sleep quality are not covered by traditional health checkups, and it is not easy for consumers to understand how they sleep, making it difficult to change their mindset and behavior.
Project Outline
NTT DATA employees will take part in this PoC from August to October 2023 to:
① obtain sleep data by utilizing nine hours hotel rooms equipped with infrared cameras, microphones, and body motion sensors for deeper sleep analysis.
② monitor/gather daily sleep data from an activity meter-embedded "Fitbit."
③ combine the data collected by this project with other health checkup data and genome data already accumulated by NTT DATA's "Food & Wellness 500-Person PoC Environment" project, then analyze it from many different angles using Google Cloud's AI and other tools.

Through these efforts, we will verify (1) whether health issues of consumers without subjective symptoms can be detected without friction*5, and (2) whether the health issues raised will help consumers understand their mindset and change their behaviors. NTT DATA aims to leverage the knowledge gained through this PoC to provide sleep solutions for consumers by recommending food, exercise, bedding products, and other goods optimized for sleep. Food, beverage, and consumer goods manufacturers will be provided with data that can be used for their R&D and marketing.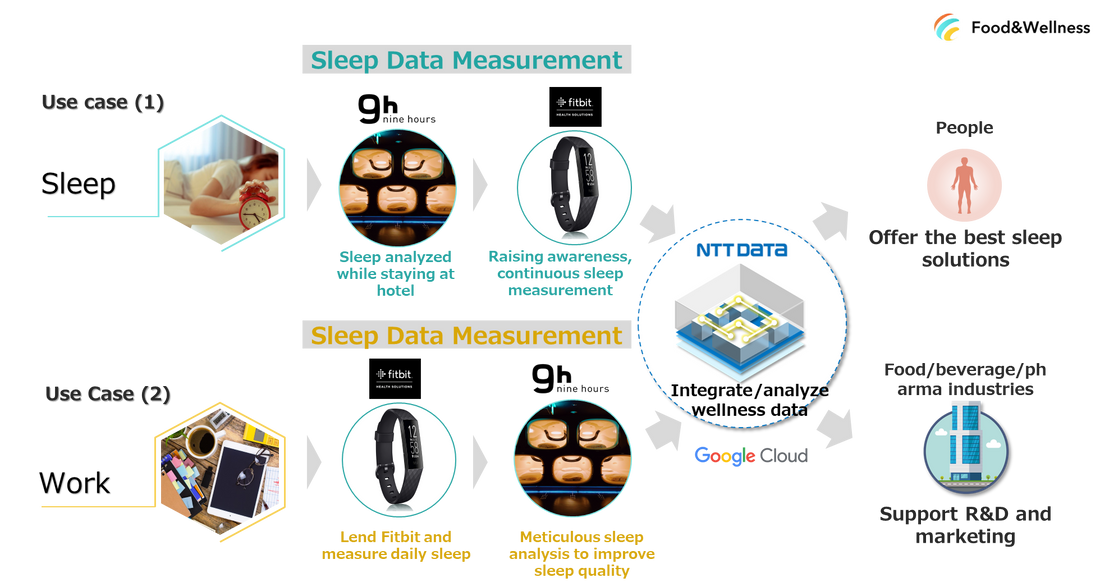 Member company PoC solutions
1.NTT Data: Food & Wellness Platform, PoC Service Platform
As a first step toward realizing the Food & Wellness Platform concept for personalized food, NTT DATA supports food manufacturers in marketing, R&D, and other areas through its "PoC Service Platform." The number of monitors has reached 1,200, and in addition to health checkup data, the Platform offers the basis for utilizing genomic data, vital data, and other data necessary for a wide range of personalized solutions. This Platform is the infrastructure of this PoC.
2.Fitbit and Google Cloud: daily sleep monitoring using Fitbit and big data analysis using Google Cloud
Fitbit is a wearable device that tracks daily sleep quality, amount of exercise, and other data to monitor users' health. Google Cloud can advance DX programs, including the creation of cloud computing environments, AI utilization, big data analysis, and building advanced data management infrastructures. A Fitbit device can visualize each user's daily life cycle (including heart rate data and sleep logs) and promote health awareness and behavioral changes, as well as analyze a wide variety of vital data from many different angles using Google Cloud, to help people solve different challenges and improve their wellbeing.
• To learn more about Google Cloud, click the following link:
https://cloud.google.com/?hl=ja
3.nine hours: sleep analysis service for detecting diseases at early stage
The "9h sleep fitscan" sleep analysis service from nine hours, a capsule hotel operator, takes advantage of the shape of the capsule design and analyzes sleep data from the guests who have agreed to do so, using an infrared camera, microphone, and body motion sensor. NTT DATA and nine hours are also planning the Sleep Lab Project (capsule hotel plus sleep analysis), the first step toward building a world in which people can acquire and utilize personal data effortlessly, to help solve issues related to sleep, which occupies about 1/3 of peoples' daily lives.
Into the future
Project members' goals are to build a "Food & Wellness Platform" for everyone that can leverage all available information, by acquiring and integrating not only sleep data but also health checkup data and a wide range of wellness data. The data gathered and integrated will be utilized to promote joint research with medical institutions and experts and engage diverse businesses such as food, beverage, consumer goods, real estate, and finance, to offer personalized services tailored to each individual based on the utilization of various personal data and accumulated analytic expertise.
*1: Sleep disorders are lifestyle diseases, while poor sleep quality has been known to increase the risk of having such diseases and exacerbate their symptoms. (Reference: Statistics by Mine Ota (Labour Force Statistics Office, Statistics Bureau, Ministry of Internal Affairs and Communications))
*2: Well-being is generally defined as a state of being fulfilled and content mentally, socially, and health-wise.
*3: Report on the Results of the 2021 Health Status Survey (
https://www.mhlw.go.jp/content/11131500/000904748.pdf
)
*4: [e-Health Net] Deep relationship between sleep and lifestyle diseases by Kazuo Mishima
https://www.e-healthnet.mhlw.go.jp/information/heart/k-02-008.html
Sleep Trivia from Experts You Can Start Using Today supervised by Kenichi Kuriyama
https://www.smartlife.mhlw.go.jp/minna/sleep/kenkou
*5 "Without friction" means no impediments or resistance. People should be able to enjoy a stress-free experience by eliminating "friction" and other painstaking efforts.